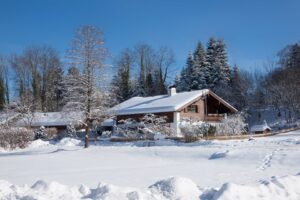 The winter season has many things to appreciate about it. Brisk weather, serene landscapes, and yes—snow days—are all elements of wintertime that many of us look forward to. However, the sometimes harsh climate that winter brings can pose several risks for homeowners in the form of property damage from snow, water, and ice.
As the premier low-cost insurance agency near Bensalem, PA, Freedom Insurance Group, Inc. is dedicated to keeping our clients and their homes safe all through the winter season. We can even help to ensure you are covered for any potential damage.
Let's take a look at how you can protect your home using our winter weather risk checklist:
1. Keep an Eye Out for Falling Trees
When a tree near your home accumulate ice and snow, they can crack and fall. Even if they don't hit your home or your car, they can still be a hassle and expensive to clear. Remove dead trees before winter sets in, and be sure to maintain healthy ones as well. This includes trimming any overhanging branches over the sidewalk, home, or driveway.
2. Prepare for Snow Damage
Even though the blanket of snow in your backyard may look beautiful, the one covering your roof can be a source of trouble. In fact, the weight of snow can be heavy enough to cause your roof to collapse. To avoid this, you should carefully remove any excess snow from your roof during the entire season to keep your home safe from this danger.
3. Don't Overload Your Circuits
During the winter, it's common to add to a home's electricity load by using portable heaters, electric blankets, and more. However, this can overload the circuits in some cases and lead to blown fuses, or worse issues. When you're not home, consider unplugging any unnecessary items to avoid potential problems.
4. Insulate Your Pipes
Without proper insulation, exposed pipes can freeze and even burst during winter. By purchasing and installing pre-cut insulation from your local hardware store, you can prevent this unwelcome occurrence.
Freedom Insurance Group, Inc. is a go-to low-cost insurance agency in Philadelphia, PA, and we're dedicated to keeping you, your family, and your home safe all winter long. By following these simple and straightforward guidelines, you can help to prevent damage to your property during extreme winter temperatures.
For any more information, or if you have any questions about what your policy covers, ask one of our insurance professionals by calling us at 215-375-7733.