The unexpected has happened, you have been in an auto accident and you aren't sure what to do. The following tips will help you during the event you are involved in an accident.
Remain calm, you cannot change what just occurred it's best to try to think clearly about the auto accident and what just happened. Note the time of day, road conditions, speed and what led to the auto accident.
Check on all drivers and passengers.  Get medical attention for anyone who needs it.  Do not move anyone who requires medical attention.
Call the police if there is a significant amount of injury or property damage.  Ask for a police report and obtain the name and badge numbers of the responding officers.  (Keep in mind in some municipalities police do not respond for auto accidents unless an injury is reported).
Exchange information with all involved parties. Get names, numbers, addresses, drivers' license numbers, license plate numbers and basic insurance info such as name of provider and policy numbers.
Do not admit fault or apologize for anything (you may be admitting legal liability).  Be cooperative and cordial to all involved. Ask witness what he or she saw. Get their names and numbers if possible.
Take pictures of your vehicle and all other vehicles involved in the auto accident.
Call your insurance company to notify them of the accident. Explain the facts clearly and truthfully.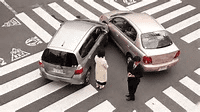 If you are injured, keep track of your medical treatment. Request copies of all medical reports and bills.
After the accident has been reported you will contacted by a claims adjuster if you have damage to your vehicle. They will advise you on how and where to get your vehicle fixed.  Keep your adjusters name and phone number handy in the event you need it for medical bills or have any further questions involving your auto claim.